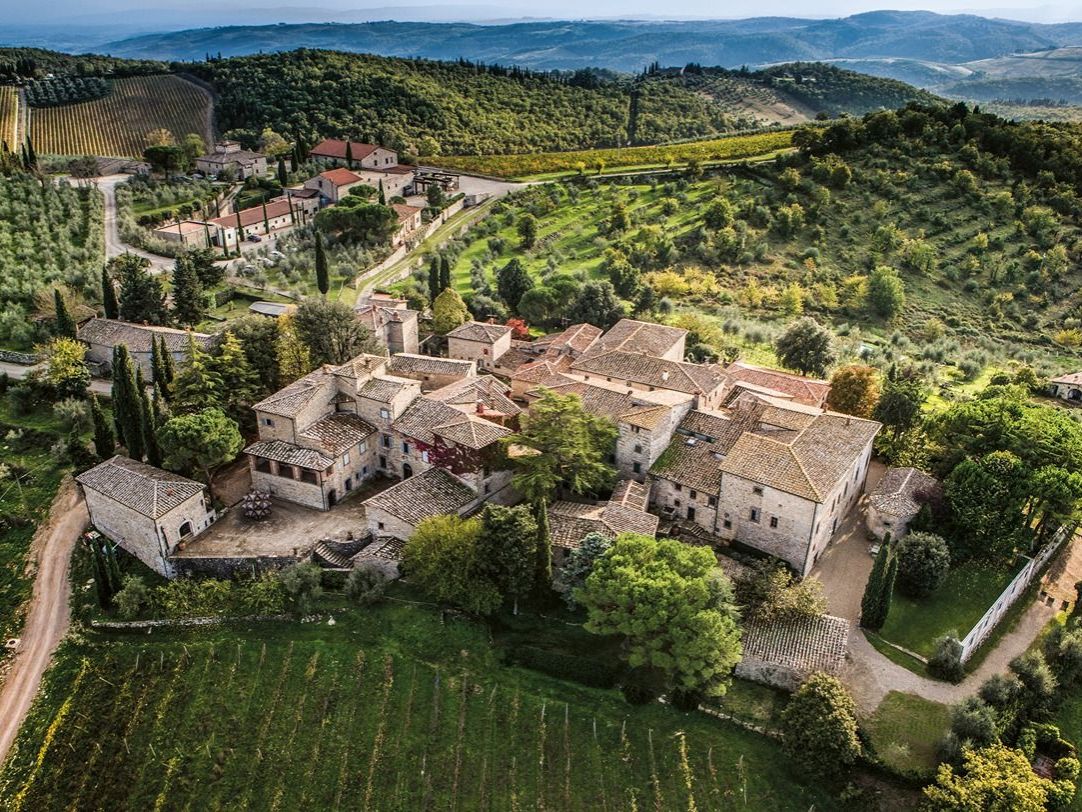 Loving Ama
Where art, wine and hospitality meet.
Ama is a small town in the heart of the Chianti Classico area, in the province of Siena. The village is surrounded by hills where vineyards alternate with olive groves and meet with woods. Castello di Ama lies inside the village, a winery founded in the 1970s through the vision of four entrepreneurs who replanted many of the vineyards and built a modern fermentation cellar. Castello di Ama has two complementary souls: art and wine.
The two souls belong to two different personalities, Lorenza Sebasti and Marco Pallanti, colleagues, companions, husband and wife, mother and father to three children, great friends and allies.
In Growing and Guarding - Castello di Ama Philip Larratt-Smith writes that the character of a place depends on its varying proportions, external factors and objective characteristics, but that it "also has its roots in the inner substrate of our perceptions, of the emotions released in us when we come into contact with these external factors... of self-awareness. Memories, desires and fantasies".
To tell the story of Castello di Ama is therefore to tell the story of the people who above all have "sensed" it. Lorenza is the daughter of one of the founding partners and arrived at Ama for the first time in 1980. "It was love at first sight. In an agreement with my father I decided to finish my studies and then move in permanently in 1988".
Instead Marco came to Ama in 1982. "If a fairy had appeared on that September day when my adventures here began, and offered to give me my wish as an 'aspiring winemaker' I certainly wouldn't have asked for all the beauty I have found here. I couldn't imagine then how evocative wine's character is, how we can touch people's sensibilities through taste, and broaden their horizons. To my great satisfaction I discovered all these things over the following years, and this is the most beautiful part of my work".
The understanding with Marco was decisive for Lorenza, who tells us "I didn't know how to tell white grapes from red, but I wanted to learn. Marco really taught me everything, even though discovering wine was a very personal journey, of travel and study".
After the first harvest of 1988 and the production of almost half a million bottles from 55 hectares of land, they made the draconian choice to begin producing half that quantity, and improve the quality as much as possible with lower yields.
"For me Ama wasn't just about wine. I wanted to open the houses there and I felt the need to look after hospitality by involving other creatives. When I began to tackle the renovation work, I didn't just want to bring buildings up to standard, I began to choose the furnishings, fabrics, lights and decor with care". Already in the early 1970s Castello di Ama had been close to the world of furnishing. Valerio and Monica's father Brunero Mazzei had appreciated the quality of the Castello di Ama wine, and always gave bottles to his clients. Several years later Lorenza returned to the Mazzei family, this time to the second generation company Edra, to choose her first precious introduced element: large chandeliers by the Campana brothers for the eighteenth-century frescoed hall in Villa Ricucci, one of the village villas. Again, she chose the Standard sofa by Francesco Binfaré upholstered in a fuchsia fabric in homage to their rosé wine Purple Rose, and to welcome guests to the winery extension, a modern steel and glass structure with open views of the outdoors.
"Edra's production captivates for its dialogue with history, present and future: tit is the strength and expression of the company's vision, beauty that is not an end in itself but a starting point for communicating a strong identity, and this as with art, is always contemporary. Every Edra object is a unique and inimitable work of art with a great allure, always managing to express its essential quality through the added value of extraordinary research, whether into creative technology or choices of unique fabrics".
This is the vision that extended Ama's horizons beyond the limits of the land being cultivated, and weaves the history of wine with the history of art. As early as the early 1990s, after various temporary exhibitions organized in 1994 and 1995, Lorenza had an epiphany, and decided to install a work by Michelangelo Pistoletto at Ama.
A partnership was born with Galleria Continua thanks to a contact with Lorenzo Fiaschi, and led to the art journey that is Castello di Ama for contemporary art today. The idea, initially only an intuition, developed into a real project: not to purchase works in order to exhibit them, but to establish an empathy between artwork and place. The artworks would be created in Ama, for Ama. In this process Lorenza was the person connected with the territory, and who took the role of welcoming artists and letting them feel its magic.
For Marco instead, things looked differently at the beginning: "When they ask me now who my competitors are I say artists. My challenge is to be able to create a wine as big as one of Ama'a works of art".
The first work, by Michelangelo Pistoletto, The Ama Tree was a wish the couple had wanted to come true, a passion, but in it Lorenza and Marco's intent could be already be perceived. At the foot of a large stairway in the old winery cellars a tree trunk rises upwards: inside it a mirror has been introduced, cut at angles to create multiple reflections and refractions. The work expresses the artist's sensibility, and his generosity.
But it was Daniel Buren's work On the Vineyards: Points of View that made them more conscious of what previously they had only intuited.
Lorenza explains, "Artists do not only bring their art to Ama, they enter into a harmonious exchange with it, interpret it, and make the territory magical. An authentic magic, [that lets you know] you are in Ama and nowhere else".
Buren concentrated on a part of the gardens adjacent to Villa Ricucci, transforming it into an open-air party hall. A mirrored wall, twenty-five metres long and two metres high, is punctuated with windows framed by vertical bands, emphasising the valley's landscape, framing it, with the aim, writes Giorgio Verzotti, "of closing off our view of the surrounding countryside, and at the same time opening it up, but in a particular way [...] so re-elaborating the whole tradition of 'landscape painting', and the equally familiar concept of painting as a 'window' that opens onto reality.... At Castello di Ama we can see a representation, or better, a device by which a thing is represented".
With the arrival of the art it seemed the wine improved too. Quoting from Umberto Eco Marco explains that this is because, "Wine is an open-ended work, like a book, or a symphony, or a contemporary art installation. It stimulates the person enjoying it to participate in completing that undefined quantity contained within each bottle. The harmony that reigns in the Tuscan landscape has its origins in the Renaissance and this cannot be explained only by the agricultural techniques that have always been used in the area".
With this Renaissance spirit of cultivating and looking after beauty in all its forms Castello di Ama for contemporary art has continued on its journey. With the growing awareness of what the project meant it has become independent of Galleria Continua.
Lorenza explains, "We have only asked one artist a year. Just like the wine production our ambition has always been to do something unique for this place that wasn't marketing nor communication for our company, but that had the sole purpose of doing us good, doing the territory good, and our guests good. Art is vital. For me the time I spend with artists is the right time, and it nourishes me".
Following on the first two works of art, sixteen more have contributed to increasing the connection between the worlds of hospitality and wine and the world of art. Topiary by Louise Bourgeois is a pink marble sculpture of a tender female figure transformed into a phallus, a self-fertilizing bud that sits in an antique water cistern. Revolution / love by Kendell Geers is a red neon script NOIT(LOVE)R that appears in a room, suggesting a Romanesque crypt and telling the story of the Castello di Ama wine: a story that compared with tradition and the status quo is revolutionary. Which is what happens with nature in its constant pulse of renewal.
And again we have Aima by Anish Kapoor, a luminous circle, a small deceptive, red abyss opening in the centre of Castello di Ama's chapel floor.
Paradigma by Giulio Paolini, La lumiere interieure du corps humain by Chen Zhen, Yo no quiero ver mas a mis vecinos by Carlos Garaicoa, Towards the ground by Cristina Iglesias, Amadoodles by Nedko Solakov, The observer by Ilya and Emilia Kabakov, Le chemin du bonheur by Pascal Martine Tayou, Confession of zero by Hiroshi Sugimoto, Topos (excavated) by Lee Ufan, Red nerve by Miroslaw Balka, and Untitled by Roni Horn.
Giorgio Andreotta Calo's work has just recently been completed.
Philip Larratt-Smith writes: "With its unique blend of art, food, wine, architecture and landscape, Ama is a work of art in itself. Spending time here means settling into another rhythm, another way of being in the world, as the sense of peace accompanies sense of self. Being here we can feel our self-awareness grow, our existence seems to become enriched and more profound, our mind is intoxicated with nature, and we experience an exciting feeling of authenticity and inner truth".
---
Laura Arrighi

Architect with a PhD in Design, and freelance web writer and editor. She mainly works in interior decoration, design and fashion and has a special interest in the hybridization of different disciplines. She juggles writing, research, teaching and design, as she works for public institutions and some of the most important Italian architectural firms.
Галерея изображений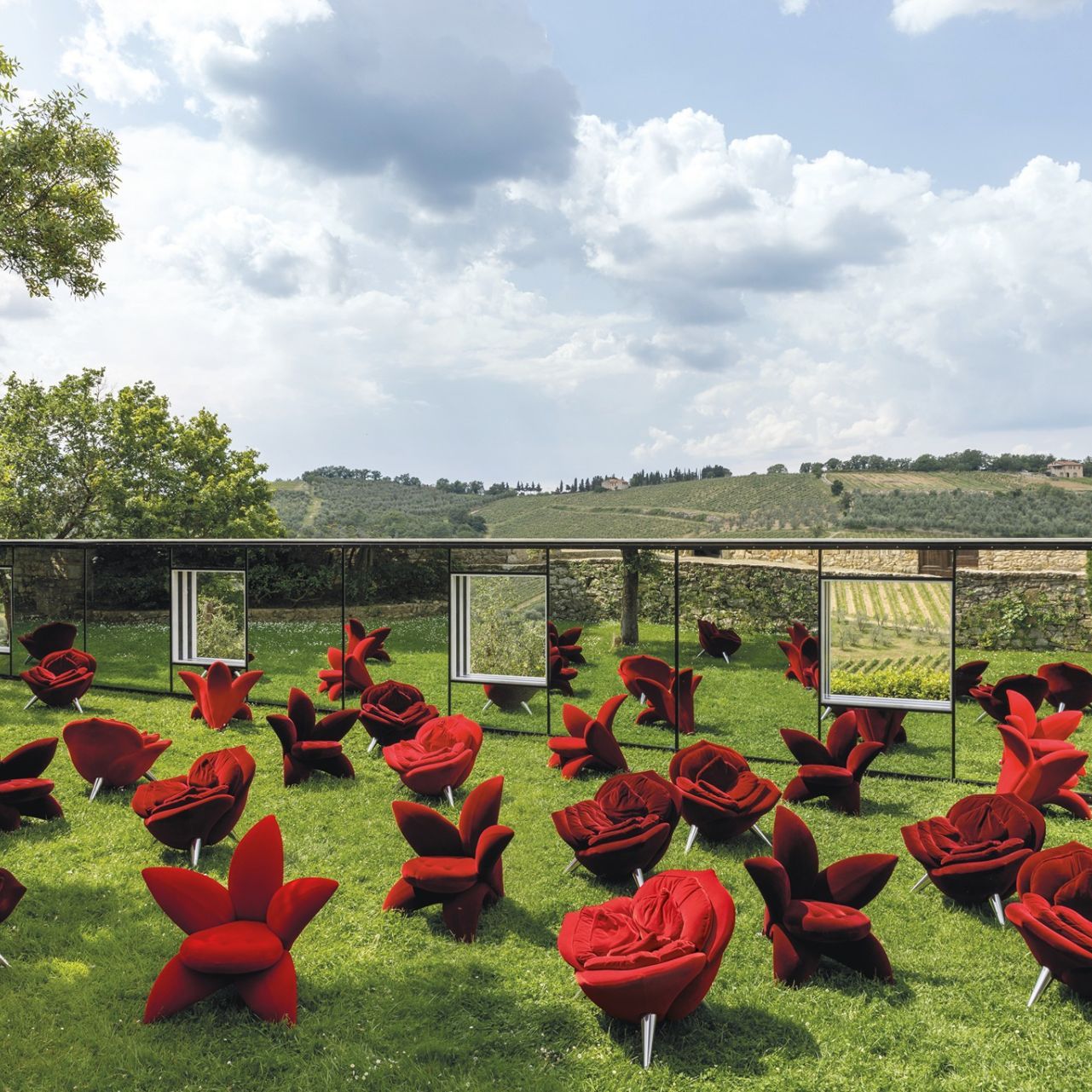 Rose Chair
e
Getsuen
It blooms in the garden of the work "On the vineyards: points of view" by Daniel Buren: a hall of open -air holidays from which to admire the landscape.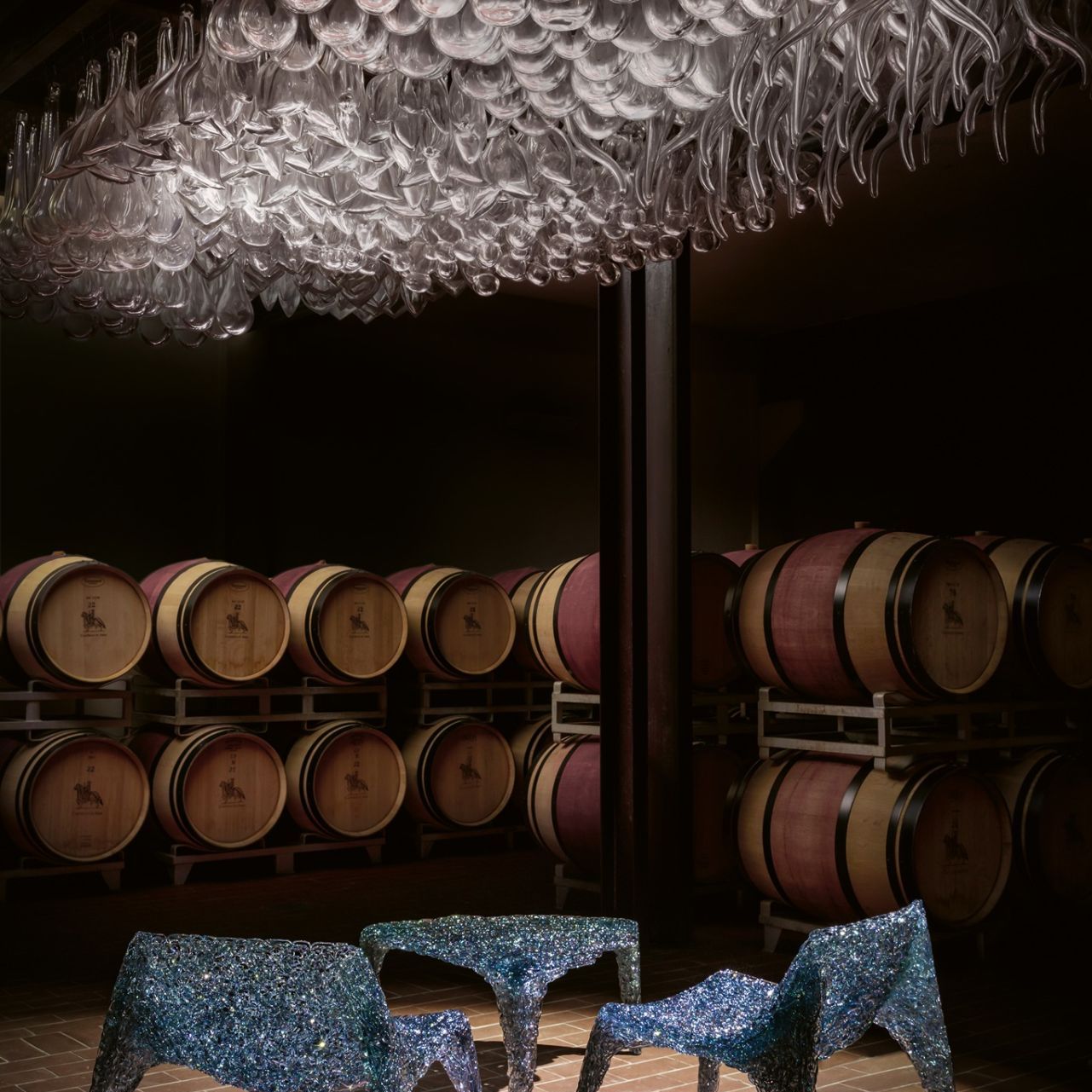 Veronica.
The collection characterized by light transparencies and shades in the color of natural glass pays homage to the "Lumiere Interieure du Corps Humain" by Chen Zhen.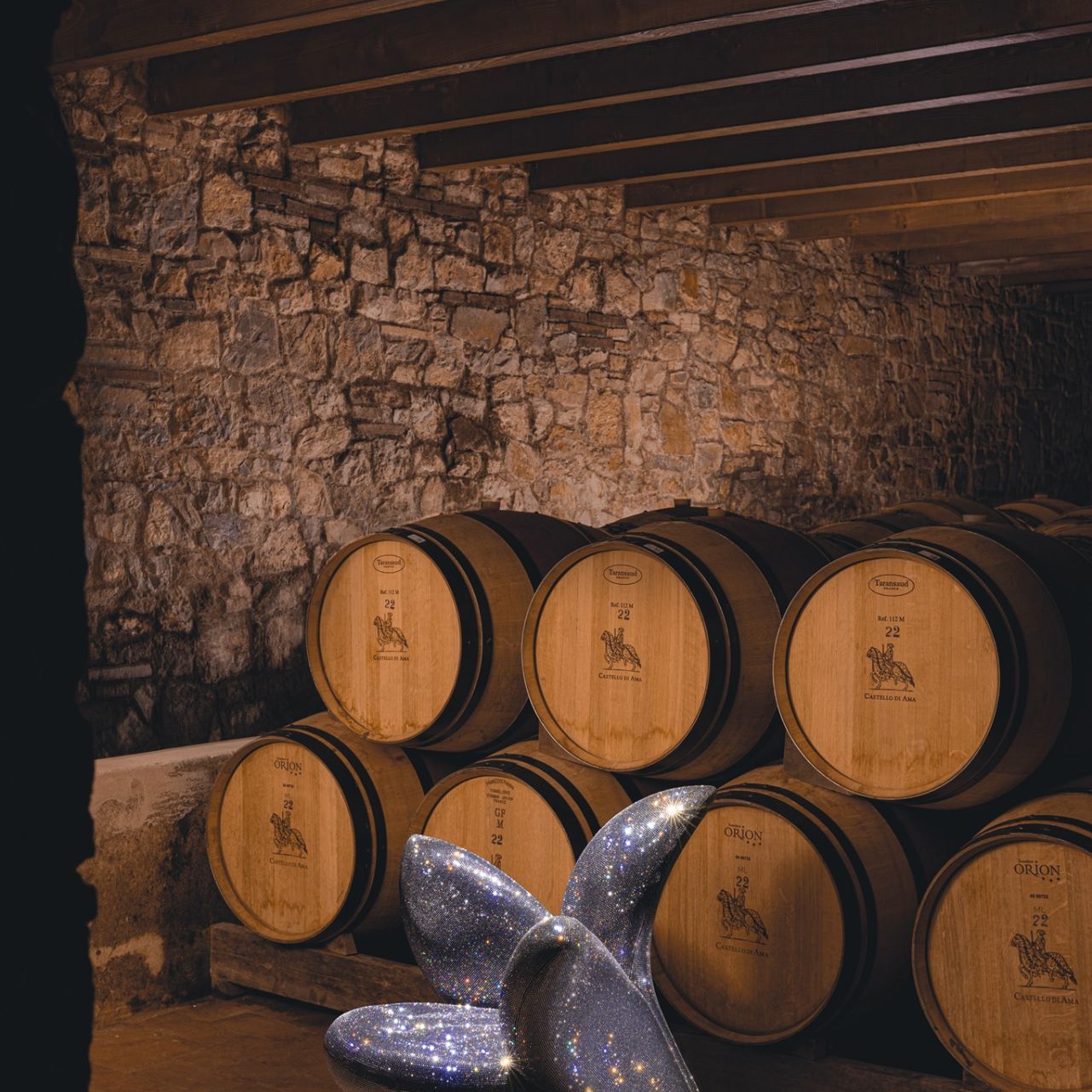 Getsuen
. Getsuen Diamond Crystallized with Swarovski shines through the barrels that keep the precious wine of Castello di Ama.
Jubilé
. Game of reflections between the mirror and the work "The Tree of Ama" by Michelangelo Pistoletto.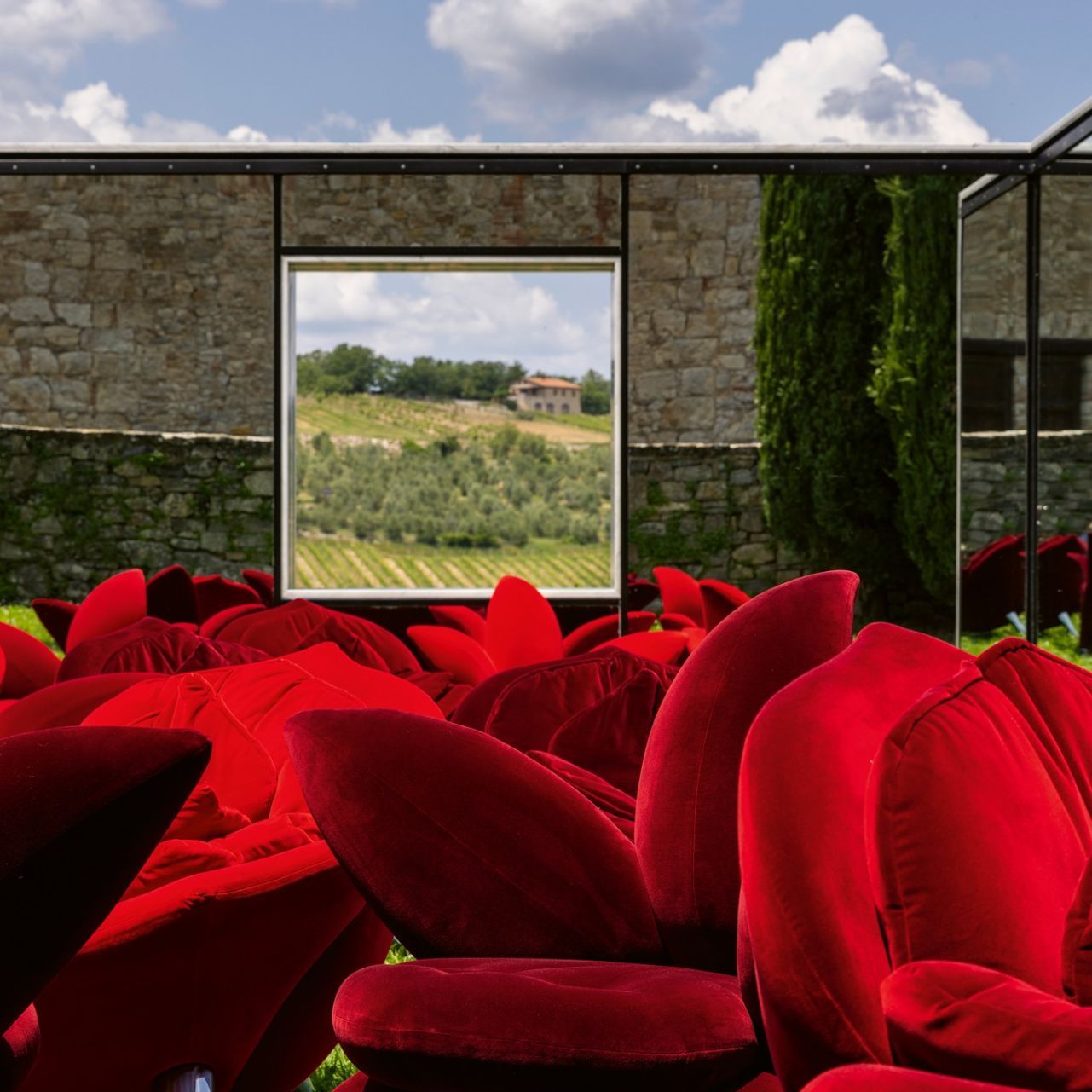 Gesuen
A detail of the models in front of the work "On the vineyards: points of view" by Daniel Buren: a hall of open -air holidays from which to admire the landscape