The National Gallery
Edra Magazine N°1 - Words: Laura Arrighi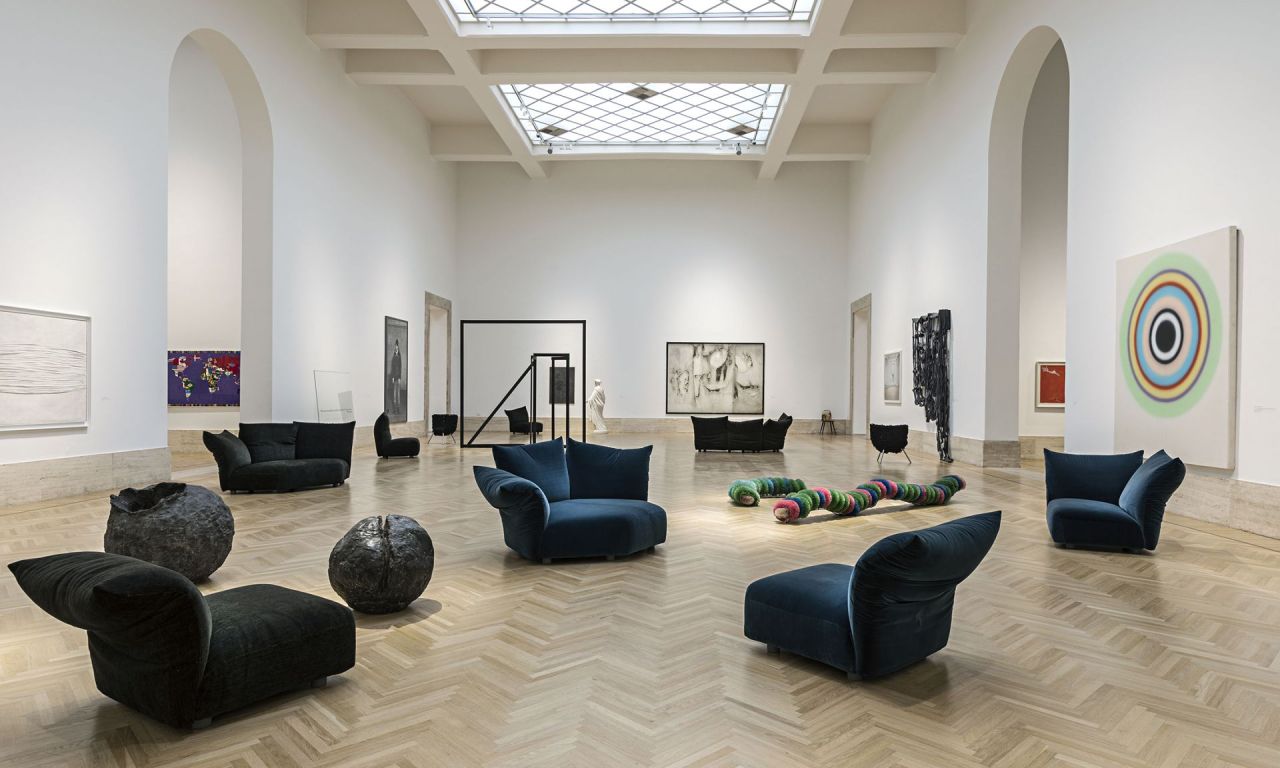 The National Gallery
Edra products dialogue with the prestigious works of the National Gallery of Modern and Contemporary Art in the exhibition Time is Out of Joint, created by Director Cristiana Collu.
Cristiana Collu, director of the National Gallery of Modern and Contemporary Art, reflects on the concepts of 'care' and hospitality and on the relationship between art and design
In 2016, under the direction of Cristiana Collu, the National Gallery of Modern and Contemporary Art in Rome reopened its doors with a completely fresh layout and conception of art. One of the director's most revolutionary operations was undoubtedly the exhibition Time is out of joint, a reflection on time that began with The lasting, which launched a wide-ranging debate on overcoming the traditional exhibition system of a chronological flow, in favour of a model based on the idea 'of a time that has to be recomposed, "put to rights", with the exhibition weaving, in simultaneous coexistence, new unexpected relationships in the symbolic space of the museum. Relationships that do not respond to the orthodox and codified laws of chronology and history (of art), but absolved and released move in a sort of anarchy, which has nothing to do with disorder, but appeals to something else that comes before the rules.' The new museum layout was also based on the idea of change and 'care'. In the first phase, Collu worked on the museum as a building, without neglecting the managerial and organisational aspects, thus combining the exhibition programme with the specific needs of a deliberately wider public. The work on the building was to remove layers, developments, successive interventions that had altered the paths of the National Gallery. It involved the central part, the recovery of the two side courtyards that have become usable gardens, the Sala delle Colonne (Hall of Columns) and the new arrangement of the monumental entrance. 'A type of operation that is part of a process translated into a subtraction. In the same way we talk about beat or upbeat in reference to music, this operation is upbeat, a sort of counter-tempo, a subtraction, similar to an archaeological dig to get to the source. I've tried to arrive at this sort of primal configuration, the architectural configuration of the place. All I've done is bringing the architecture back into the light. Added to this is a contemporary vision of hospitality. People who arrive feel welcomed; it's a space that doesn't immediately ask you to buy a ticket, it doesn't come at you, but instead you enter it and intuitively you understand how you can use it.
It's a sort of filter, where you understand that you can stay there, you're not simply passing through the museum, but inhabiting it temporarily.'
Cristiana Collu was previously director of Mart (2011-2015) and MAN in Nuoro (1999-2011). She served on the Jury of the 58th Venice Art Biennale in 2019 and is involved in the Women for a New Renaissance Task Force and the Royal Commission for Riyadh City. She is part of the Scientific Committee of the Farnesina Collection. She has taught at several universities and has a PhD in Museum Studies and Museology. Edra Magazine met her to discuss the themes of 'care' and hospitality in museums, and the relationship between art and design.
"IN THE SAME WAY WE TALK ABOUT BEAT OR UPBEAT IN REFERENCE TO MUSIC, THIS OPERATION IS UPBEAT, A SORT OF COUNTERTEMPO, A SUBTRACTION, SIMILAR TO AN ARCHAEOLOGICAL DIG TO GET TO THE SOURCE. I'VE TRIED TO ARRIVE AT THIS SORT OF PRIMAL CONFIGURATION, THE ARCHITECTURAL CONFIGURATION OF THE PLACE. ALL I'VE DONE IS BRINGING THE ARCHITECTURE BACK INTO THE LIGHT"
CRISTIANA COLLU
What spirit and vision have guided your direction of the National Gallery of Modern and Contemporary Art? How do you think museum curatorship has changed today?
'Action speaks louder than words' is a phrase that has always been close to my heart. It's my way of taking the floor in tune with my way of being, of interpreting and translating a consciously and necessarily partial vision that can express some truth that can only be found through exploration and experimentation, risking and taking responsibility. This position creates a place for dialogue and discourse, within what, today, is one of the last non-virtual spaces that can host this exercise of participation and sharing, a collective voice that refers to the community. Personally, I know of no other way to do our time than to stay in the present, not just keeping up, but marking time. I started with architecture and light. I tried to rediscover the spirit of this place and from there I began to design a possibility for the National Gallery and its collection, its exhibition activity. I fielded unorthodox, untethered and to some extent anarchic relationships, in line with a certain feminine tradition, which has nothing to do with disorder, but rather with something that comes before the norm and laws and that gives a lot of space to imagination and intuition. The Gallery tells this to its audience and it seems to me that they understand each other perfectly. People have an incredible knowledge and sensitivity in relation to places and to their energy frequencies. Feeling welcome and being at ease is a delicate system of relationships.
In recent years, under your direction, the National Gallery has turned its attention to women. Can you briefly tell us about the most representative initiatives and exhibitions?
There is no vision that is not situated, that does not belong to a positioned subject; there are no gazes without trajectories, nor trajectories without relations. I like witches, terrible, disobedient and unruly girls, hooked on desire, making a difference, acting on behalf of a time to come. I believe there is a huge amount of work to be done, which is why, since 2015, the National Gallery has focused its attention on women, aware that there are many issues to be addressed and they all have a common denominator: inequality. The development of a museology of our time ought to address many other issues, such as those related to gender, power, family, work, environment and sustainability. We need to be aware that when an issue is hot, it is perhaps impossible to deal with it in an aseptic and non-ideological way, and that in order to talk about it and to change things, you need to get your hands dirty. What I know for sure is that this version of the world is not the one I want, and I want to do what I can to build another one. At the beginning of 2021, the exhibition Io dico io - I say I focused above all on the women need to speak in the first person singular, to affirm their own subjectivity, to unhinge stereotypes and trace a map in continuous transformation. The exhibition Cosmowomen. Places as Constellation, with its monumental and imaginative representation of real constellations of meaning through the symbolic recreation of boundless spaces, propels an architectural revolution, a political vision and an ecological creed.
"THE CONTEMPORARY DESIGN THAT EDRA REPRESENTS IN AN EXEMPLARY WAY, HAS BROUGHT PERSONALITY, DESIGN, COLOUR, COMBINED NOT ONLY WITH COMFORT AND WITH SOMETHING FAMILIAR AND EVELOPING BUT, AT THE SAME TIME, WITH SOMETHING MORE, NOT NECESSARY BUT ABSOLUTELY ESSENTIAL: A LUXURY"
CRISTIANA COLLU
Design has rightfully entered the National Gallery, for example with the exhibition On Flower Power curated by Martí Guixé, but also on the wave of a new concept of hospitality within museums and institutional venues. Guixé was also responsible for the layout of the bookshop, desk and bar. Why and how is the combination of art and design valued today?
The project concept is the common denominator of any vision. In the case of my happy and long-lasting collaboration with Marti Guixé, an out-of-joint designer and visionary, I was able to explore aspects of a fascinating world that always tries to reconcile a certain idea of beauty with functionality and utility, with joy and irreverence, with daring and deference. In a word, with intelligence. This vision has become an essential part of my work, one of the key tools that has allowed me to carry out museology operations that are complex, yet flexible and instinctive and always wide-ranging.
On Flower Power showed this reconciliation and exposed the search in its making, the intuition of something that still eludes, the heuristic openness, the 'accidental knowledge'. As if what is given back in the museum room was still in the making, still suspended, without taxonomies.
B chairs and the Flap sofa welcome guests. You have hosted the collections for photo shoots and used products in installations. Can you give us your perspective on the company?

Edra is an imaginative world rooted in Italian culture, in artful know-how, in the tradition of design and in its intertwining of art, architecture, nature and landscape. This is precisely why we have always found a harmony without preamble with Monica Mazzei.
At a certain point, the design seats began to populate museums, and often replaced, only temporarily, the traditional benches conceived not so much for contemplation but for rest, in many cases they were also eliminated from inside the rooms. The increase of the public in front of the works made them useless for their original purpose. Indicating a new way to stay at the museum, the contemporary design that Edra represents in an exemplary way, has brought personality, design, colour, combined not only with comfort and with something familiar and enveloping but, at the same time, with something more, not necessary but absolutely essential: a luxury. A fun shape, an unexpected softness, an invitation to stay still in the museum space, even just simply to contemplate in that incredible context and feel not only welcomed, but be part of it. This is what I wanted in the museums I have directed and Edra has shared and accompanied this path even on the occasion of the most difficult exhibitions, such as the one La Guerra che verrà non è la prima (The War that will come is not the first) at the Mart in Rovereto, as points of reference in the exhibition Perduti nel paesaggio (Lost in landscape) always at the Mart, and finally in the National Gallery, inside that extraordinary device that is Time Is Out of Joint.
---
Laura Arrighi

Architect with a PhD in Design, and freelance web writer and editor. She mainly works in interior decoration, design and fashion and has a special interest in the hybridization of different disciplines. She juggles writing, research, teaching and design, as she works for public institutions and some of the most important Italian architectural firms.

Photo: Pietro Savorelli
---