Where art lives
Edra Magazine N°0 - Words: Roberto Falconi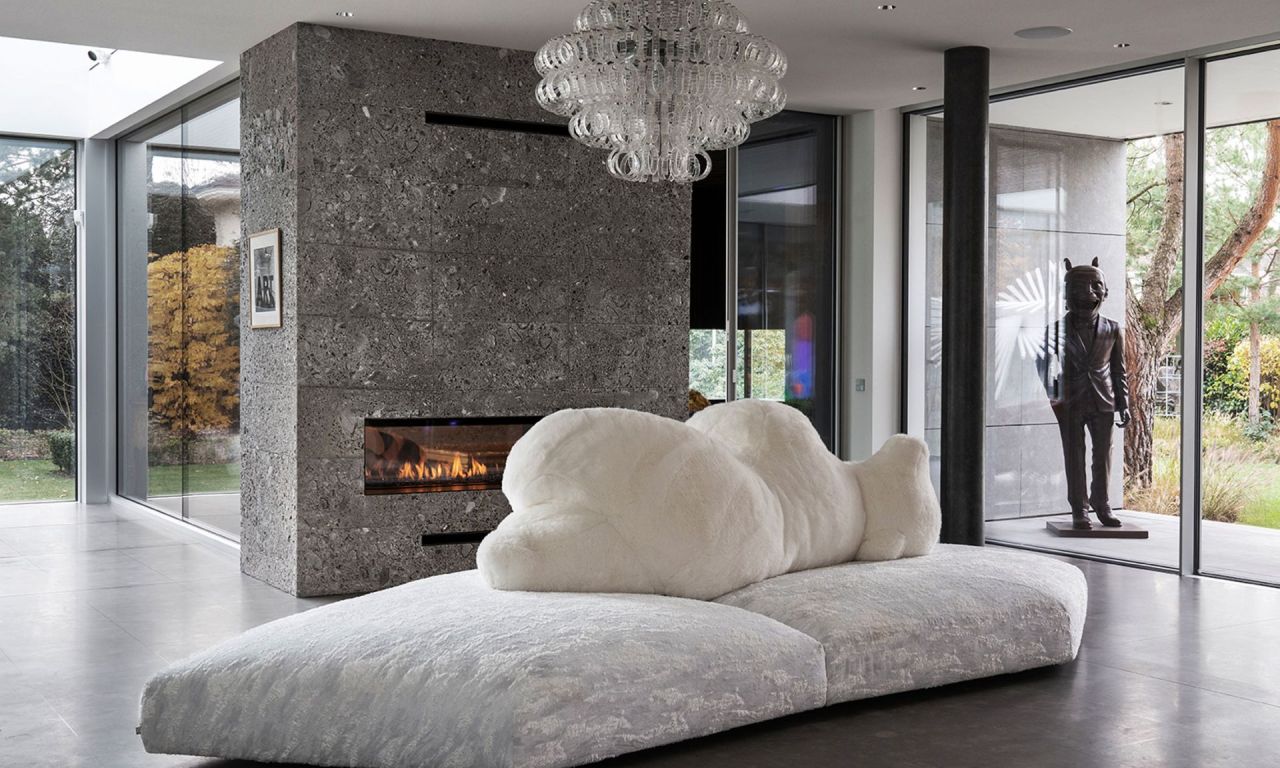 Collecting has been redefined in new forms that see it spilling out of art and into design. We have witnessed the opening of lots of collectible design galleries, which are having the time of their lives now that one-off collectible pieces are given prominence and have their own market positioning. There are shows and events that promote artisan skills.
For me, the epitome of the perfect combination between contemporary design and art is an interior decoration project I made for a villa in Switzerland. I am a lover of contemporary art, and often the works I make add up to my art projects. In this case, the challenge was really inspiring. In addition to the property and Loukoum the dog, the house contains an impressive art collection, made up of aggressive 'impulse buys' that I had to connect with the architecture. I didn't know the owners but they had just bought a sculpture by Stefano Bombardieri, a good friend of mine, who had introduced us. As I usually do, at my first survey in my briefcase I had the materials I love the most: stone, wood, metal. They confided to me that the new house felt cold and uncharismatic. I eventually took my ubiquitous toscano cigar out of my pockets and asked them if I could smoke. Laughingly, they took two cigars – two Cuban ones, of course – that were bigger than mine. So, this is how we hit it off, on a wisp of smoke. Their brief was taking great care of the finishes, the light engineering and the furniture, to complete the project worked out by local studio Favre&Guth Architectes. The goal was adapting the interior design to their enthusiastic passion for contemporary art. Any work on the property, which occupied about 950 square metres, was thought of as an expansion and a reflection of the private gallery, which is in the east wing of the house; each room was covered in a different way to take in the pieces, one after the other. Sometimes, we picked out a work of art as a statement piece and worked around it, as with the big fuchsia cast of a ploughed field, its colour echoed in some details of the room. Sometimes, the place to put the art in was chosen later.
"SUCH COLLECTION HAS BEEN BUILT BY THE HEART, NOT BY THE MIND. THERE'S NOTHING THAT BORES ME MORE THAN A GALLERY OWNER EXPLAINING WHAT ONE SHOULD SEE IN A PAINTING AND HOW TO FIND IT OUT"
Paintings, sculptures, installations invaded every single area of the house, which also has a beautiful 25-metre indoor swimming pool clad in black stone, a spa area entirely covered in Ceppo del Grè stone, including the ceiling, and obviously a smoking room, conceived as a treasure chest of stone and Makassar ebony wood.
There's a chimneypiece that goes through to the living room on the other side. The floor and the ceiling have been pierced for perfect ventilation. I put my money on the Ceppo del Gré stone that covers much of the house. Its unevenness has always fascinated me, even if it makes it very hard 'to understand'.
The furniture was designed by Edra. The owners of the villa visited the Tuscany-based company that kept them with them for two days for a tour of the showroom. Edra Magazine took the opportunity to have a talk with one of them.
Yours is not just a passion, it's something more. You are an outstanding collector. Where does this sort of 'healthy obsession' come from so that you can't stop buying new pieces?
I don't like the word 'obsession', there's no such thing as a healthy obsession, I would rather call it 'artitis'. I caught it nearly twenty years ago when I bought a painting by a Cuban artist, Carlos Boix, of whom I now have more than one hundred and fifty works and who has just made another sculpture for us. 'Artitis' goes through more or less intense periods. When it is acute, I feel like a lion in a cage that needs to stretch out his legs. And this happens quite often, even if the cage is a big one ….
Let me tell you an anecdote: we were in Monaco with our dog and went to see a sculptor friend. His studio was near Botero's one, so we decided to ring on the Master's door. He opened the door himself and let us in, telling us to mind the dog because his paintings were drying on the floor. My eyes fell on a work that I loved more than any other, and one month later it was in our house. Once I bought a work by a very well-known artist which I didn't like at all, I was persuaded by the gallery owner. I hated that painting, and the only reason I had bought it was that I wanted to learn to like it. A challenge. I tried and tried again but I failed. Five years later I swapped it for a painting by Haring. Which I adore and smiles to me every day as I go downstairs.
"I AM A LOVER OF CONTEMPORARY ART, AND OFTEN THE WORKS I MAKE ADD UP TO MY ART PROJECTS"
Home is a place of intimacy and comfort where people express themselves. But your home is also the home of art. By looking at the pictures, art seems to be living in it. It is not on display but has a life of its own. Can you tell us something about this matter?

This is a question that needs no answer. Home is a place of intimacy and comfort, and this means art to me. I always love it and I always laugh (in my mind) when someone tells me they can see a connection, a specific thread running through the pieces in my collection. Such collection has been built by the heart, not by the mind. There's nothing that bores me more than a gallery owner explaining what one should see in a painting and how to find it out...
To be a bit more terre à terre, this house has been built to take in what has turned into a collection. For instance, the floor had to be strengthened to hold Jan Fabre's Brain, 3.7 tons of Carrara marble. Kusama's Pumpkin was a key piece too, while the property was being built. The garden was designed and developed around the two 4-metre-tall boots and the white bone, and so on.
So, art is bought with one's heart and not with one's mind. When you chose Edra, you found a veritable 'partner in crime'. What led you to make such choice, and how did you experience using your furnishings to decorate such a special place?

When we visited Edra, after a lovely lunch we went to their showroom. The furniture stood out for itself, special chairs for the smoking rooms, beds made of golden lace, furnishings created by artists in an artist's house. After seeing the polycarbonate dining chairs we thought they fit so well with the artistic table by Bombardieri, made site specific for the home, that we immediately ordered them.
---
Roberto Falconi

"Old School" architect, inspired by such artists as Mies and Barragan, from American modernism to Japanese critical regionalism. In 2015, with the son Gabriele, he opened Falconi Architettura, an archicture firm that mainly deals with private projects and the renovation of residential buildings"
---